Fun social opportunities for teens who have experienced acquired brain injury (ABI).
TEENS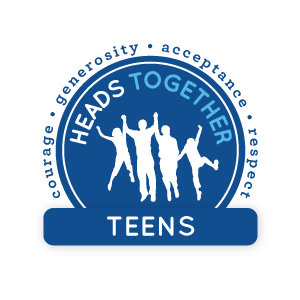 For information about our next Teens hang-out, give us call on 0409 26 189 or connect with us on our Facebook page.
The Heads Together Teens program is a chance for young people who have experienced acquired brain injury (ABI),to spend time together in a fun and relaxing environment to build friendships, develop coping strategies through shared experiences, and build social confidence and independence. This includes both siblings and teenagers with an ABI who are aged 13-19 years and live in Victoria.
Why do we run Heads Together Teens?
This program aims to meet the needs of both teenagers with an ABI and their siblings, in different ways but within an inclusive environment. Teenagers with an ABI are often quite socially isolated and struggle to make peer connections which can have a huge impact on their emotional well-being and quality of life. They also need support with building social skills and confidence as well as developing their independence. Siblings also need peer support and connection, as their experience with brain injury involves a complex mix of emotions from love and compassion to guilt and resentment, putting them at risk of psychological distress & behavioural issues.
Most teens regardless of whether they have an ABI just want to fit in and feel "normal" which is why it is important to create an inclusive, accessible and safe space for them to connect rather than further isolating them by separating teens with brain injuries from siblings.
For information about our next Teens hang-out, give us call on 0409 26 189 or connect with us on our Facebook page