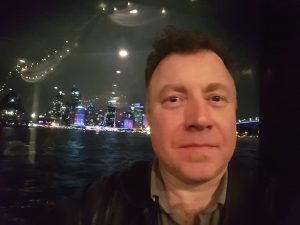 My name is Adrian and I was hit by a car on October 28, 1987- 2 days before my 14th birthday. I was knocked off my bike and landed on the road head first.
I woke up after being unconscious for 4 weeks. I suffered Acquired Brain Injury- unable to walk, talk and very minimal use of the left side of my body.
Doctor said that I will slowly improve over the next 2 years, but talking will be the last to improve. I was determined to prove him wrong, so I started talking after a month. It took me 6 months to be able to get out of my wheelchair and then another 6 months to walk unaided (albeit slowly!).
After 1 year, I went back to school part-time. I traveled from school to hospital appointments daily. It was difficult for me, as I had to deal with the pressures of school and rehabilitation concurrently, but I managed to adapt, grow and continue through and pass year 12.
After school I worked for a while selling lollies door to door (where I ended up eating half my profits!), until I got a job working at a clothing wholesaler in Carlton. And I'm still here 26 years later.
I've had many adventures along the way- many times I fell over and had to pick myself up (both metaphorically and physically!).